colin.
37. virgo. bootlegger.
What would a stranger think about the person living here?
My neighbour seems to think that I sing a lot of Nickelback. But it's not Nickelback. I'm just riffing. It's more like Eddie Vedder from Pearl Jam.
how did you grow up and has it impacted how you live now?
Well, I live alone, I need my own space. I remember being a kid and yearning to be an adult so I could have my own apartment.
My dad played lots of music at home. He listened and still listens to mostly country, which I didn't appreciate then but do now. He also plays the accordion. Some of my earliest memories are of me singing and dancing around the living room in front of my family.
maybe that's what led you to doing your own music, eventually with wyrd visions. what inspired the name and the music?
At first I wanted to call it Wyrd Sisters, like the weird sisters in Macbeth, the three witches. Wyrd is another word for witch, or faith, someone who can see the future.
The songs are quite sparse and brooding, slow and repetitive and are usually based around a riff that's repeated over and over for ten minutes. They're meant to have a trance-inducing effect.
Would you say you have a favourite artist, or anyone whose work you admire?
Vincent Gallo. I've been really in to him since I was a teenager when I first saw Buffalo '66.
Did you see that he was selling his sperm online?
I remember that. I like the story from when he was washing dishes at a restaurant in, like, the 80s. He was only a dishwasher, but he was the best dishwasher in all of New York. Food critics would comment on how clean and sparkling their dishes were.
We often joke about you being the classic Virgo, with the colour coordinated clothes and the fact that everything has a place in your house, and that you always smell good.
Virgo, yeah, but I think I'm just, like, a passionate person, and I like when things smell good, so why don't I also smell good? Why don't I make my home smell good? It's just, like, a pleasing thing.
can you Tell us about your magazines, since you actually used to make one?
I collect magazines, books, zines. Printed matter. Some are here and a bunch are in Toronto. A lot of graphic designers will collect books to use as reference, but I really just think they look nice on my shelves.
Bad Day was a magazine I did with Eva Michon, the editor-in-chief and Jackie Linton who published it. It featured primarily interviews with both established and not-yet-established artists. Jason Nocito and Avena Gallagher, two geniuses who were very generous and great to work with, did the fashion editorials. I always looked forward to seeing what they'd come up with.
The magazine was printed in monotone, one ink colour, on contrasting coloured paper stock. Each issue had its own two-colour combination. We thought that this would make it cheaper for us to print the magazine, but it also became the defining look of the magazine.
thurston moore, always.
michael stipe, always.

Do you have a favourite issue?
The one where Glenn O'Brien interviewed Peter Saville, which was sort of a dream interview for us. I spoke once with Peter on the phone to discuss the scheduling of the interview, he also shared some of his own suggestions about the colour palette of the issue.
What's your favourite experience from that time?
Celebrity spotting at the New York and LA Art Book Fairs where we were exhibiting. Thurston Moore, always. Michael Stipe, always—he and I both bought the same Peter Sutherland blanket. Zach de la Rocha was a good one. No Vincent, though.
i like the kabanoss,
it's a good big hot dog.

You have a love for the hotdog stand Günther's. And even made a bootleg t-shirt, tell us about this fascination?
Günther's is a destination spot. But it's not a place where you can stay—it's to-go. It's right near Acne Archive.
The t-shirts I made are a tribute to Günther's and their sausages. They have an amazing logo, and this incredibly informative signage, detailing the look, taste and origin of each sausage. That's what I used as the artwork for the shirts.
And what would you recommend to get? it's a set menu isn't it? And comes with a lot of sauerkraut!
It's a very set menu and honestly I don't enjoy sauerkraut. I like to order the Kabanoss. It's a good big hot dog, the longest one, long and thin. So I get a double, because it's thin. I'll say stuff like "no sauerkraut" and you know they give me a bad look. And I'll be, like, "just ketchup". Usually people are getting sauerkraut, they're getting ketchup, mustard, the works. Not me.
So, if you were a flavour, what would you be?
Is salt and pepper a flavour? My flavour profile is called bland. You know how you can order airplane food ahead of time, bland is one of the options. On the other hand, you can probably find me enjoying some spicy black liquorice, some Turkisk Peber, from time to time.
And do you have a favourite condiment?
Heinz Ketchup is iconic.
film & music VIDEO referenceS
grand total: 3
still from 'buffalo '66' (1998) directed by, and starring vincent gallo
promotional still for 'macbeth' (1948) directed by orson welles
still from richard ashcroft's 'song for the lovers' (2000) directed by jonathan glazer
Apart from Gunthers, what other places in Stockholm do you like to visit?
I like to buy local. I like to get books at Konst-ig, and go by Hundörat for secondhand ones. I'll often find old Moderna Museet catalogues there and they have an impressive collection of vintage posters.
And maybe Il Caffe, it's just a cafe, what more do you really need? It is what it is, nothing crazy, nothing fancy. I get the hot chocolate. Sometimes a flat white thingy and sometimes a Coke. It's a good place to run into people, if you want to run into people.
Tell us about your paintings.
That large drawing is by Alexandra Karpilovski who I got to be friends with when I first moved to Stockholm. The other is by André Ethier, a Toronto friend who does makes amazing paintings and beautiful records. I actually made an entire magazine about him in my Editorial Design class at OCAD.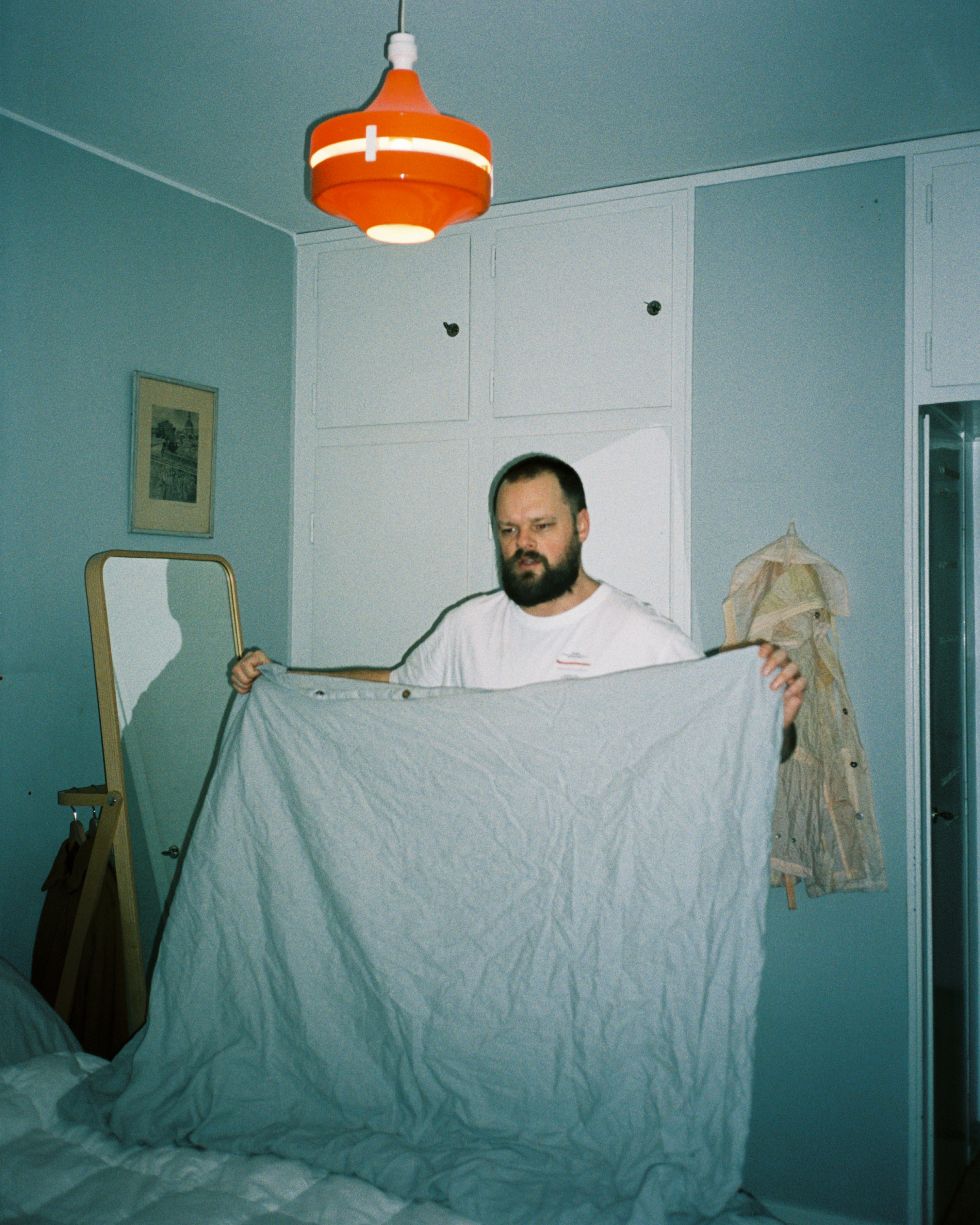 poo and pee are actually
my favourite colours right now.
For someone who both work with music and visual story telling, what is your favourite music video?
Richard Ashcroft's Song For The Lovers. They use what is called diegetic sound. You hear him as he's walking around his hotel room, he's clearing his throat, he's, like, taking a leak, he's casually singing harmonies along to the song while it plays in the background. He's in a hotel room, shirt off, being Richard Ashcroft. He's ordering room service, picking at the food, brushing his teeth, looking incredible. I like the mundanity.
What's a staple in your wardrobe? is there a connection between the staples in your wardrobe and in your home?
There probably isn't a colour in the apartment that I wouldn't also like to wear on a garment. A white tee is like the white cube, white walls. All my trousers being different shades of green, my succulents, these green ceramic pots I made, the brown soil, my brown suede jacket, the brown plastic Ikea chair. It would be really nice to have a brown toilet—poo and pee are actually my favourite colours right now.
poo brown
#4A350B
pee yellow
#f2e673

What has been the favourite comment about your flat?
That I have cartoon-y taste.
And if your home was a movie what would it be?
Home Alone. ✺