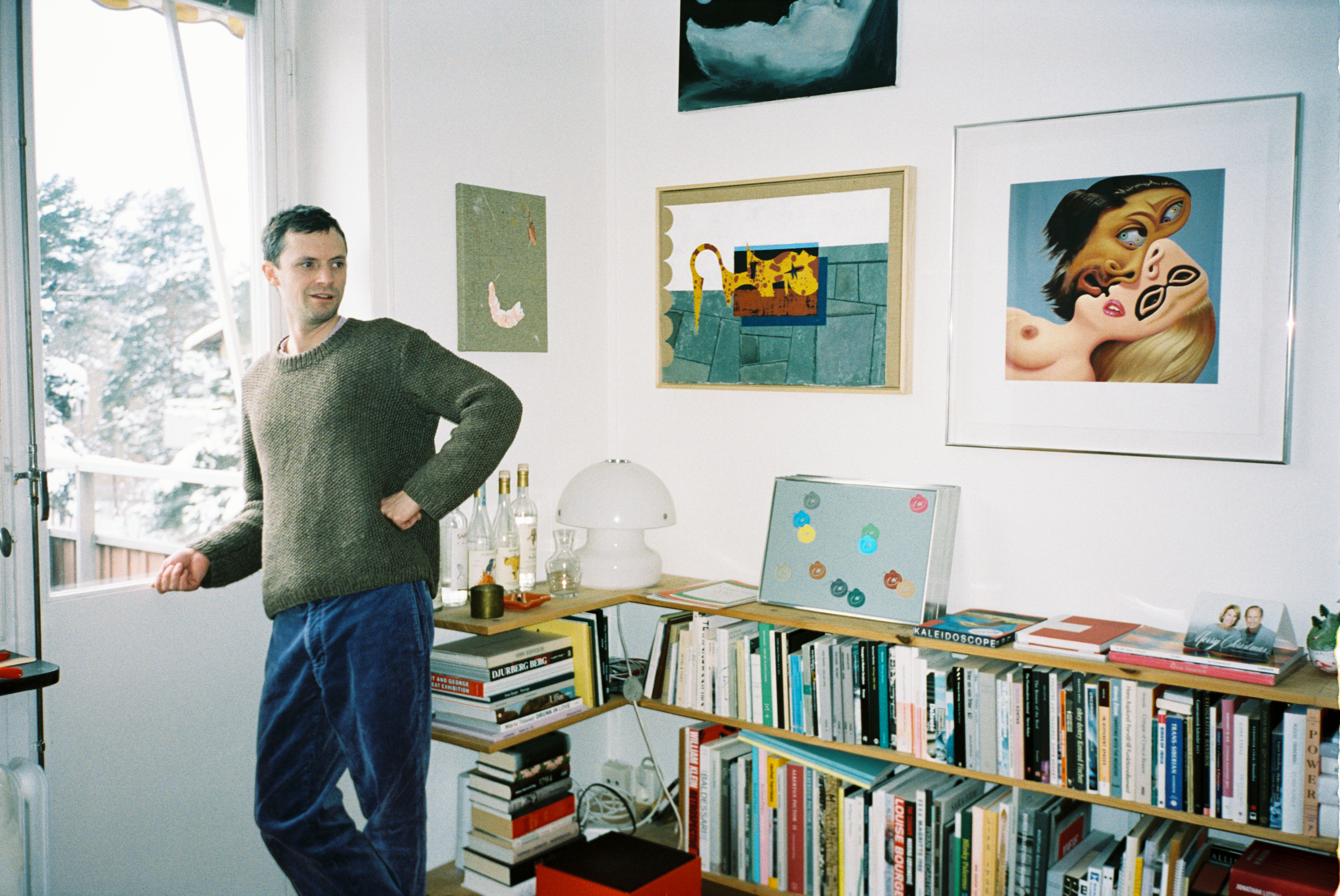 oscar.
40. gallerist. alp enthusiast.
would you rather live in a nice building or enjoy the view of one?
I like a nice view—my friend Ursula lives in a very beautiful house, but she never gets to see it. Her view is of an ugly 70s house that was painted white, and now kind of looks like the ferry you take to Finland.
What made you choose this place?
There was not much choice. But what I like about it here is that you live quite high up and the light comes in from both sides. That was the idea when they built these, that the modern man should live in modern houses and have nature outside. And it really works that way. All the roads were built according to the terrain and the forest was left wherever possible. On a sunny day I can see all the way to Sundbyberg—the place where I grew up—from a safe distance.
Where did you live before this?
I've moved around in different places since I left high school. I was in London for 8 or 9 years. The longest I lived there was in Stoke Newington, my landlord was a guy named Tony who had a beautiful Victorian house. After that I lived in Frankfurt where I studied. I couldn't find a place there, so I lived in my studio.
Do you have any tips for students doing the studio life? In Stockholm it is quite common for students to live unofficially on campus.
It's a bit like indoor camping. I actually had a mattress which was presented as a day bed. Then something happened at the school and there was a ban against living in your studio. There were few places to live so we really had nowhere to go. On Tuesdays and Thursdays a superintendent went around to inspect and I would hide in a wooden box—it was completely absurd.
How was Frankfurt? a bit rough around the edges?
It's Europe in the 20th century crystallised. When you're there, it's hard to understand what kind of place it really is—the home of the brothels, banks and big fairs. It has skyscrapers and a grid, so a lot of European films that are supposed to look like America are shot there.
i care about things and have a hard time having things i don't care about.
When you decided to pursue art, did you have a clear idea of what you wanted to do or was it more intuitive?
It was intuitive. I come from a military family and I was the first one in 200 years who did not chose that path—the black sheep of the family. After high school I wanted to go to London to study at Central Saint Martins because I had read about it in i-D magazine. You had fashion and art in the same building there on Tottenham Court Road. My studio was actually the same room where the Sex Pistols had their first concert! Creativity and history was in the walls. And you had to deal with that for better or worse.
How did you get started with your gallery, ISSUES?
ISSUES is a gallery business that I have been running since 2014. I started it as a site-specific exhibition platform after I returned from Germany. It was easy—there was a need for it. That's the thing with Stockholm, many people walk around just waiting for things to happen. So I took matters into my own hands.
You have this German and Tyrolean cabin style.
My mom spent a lot of time in the Alps and had a fondness for it. Growing up we would visit there a lot. I also heard via a medium that I had lived in the Alps in a previous life. Many people think Germany is brown and ugly, but I think it's nice and I like it sober and kitsch. There's a sense of humour to it.
As someone who hikes, what's the best thing about being in the mountains? are there places you return to?
The best thing is that you focus only on fundamental things, you become one with yourself, even if you have company. It can be meditative, you clear out everything that is not necessary for survival.
i lived in the alps in a previous life.
What about going to the race track, how did that start?
A friend introduced me to it and it turns out to be very calm. You sit and read quite a lot so you absorb a lot of information about each horse. Then you try to guess which horses will win the race, but really it's up to faith. Much like working with artists.
What's the biggest challenge of working with artists?
To be honest, this may not be the biggest challenge, but it will make things easier, that you have the same expectations, and that nothing comes as a surprise. If I am expected to sell a piece, but that piece is difficult to sell, they will be disappointed if I don't. But whether something sells or not, doesn't dictate whether something is good or not.
Apart from art, what else do you collect?
Grappa, it's so good. It is a very strong alcohol, not something you should drink a lot of. It's so versatile and you usually drink it after dinner. The best Grappa is made from the Muscato grape, it is floral and nuanced. I like the strong taste.
There will be a good vibe as well.
Indeed!
When you host, what do you like to bring to the table?
The guests are important, of course. The food should also not be too spectacular so that the guests feel uncomfortable, not that there is any danger of that with my cooking. One should also not come hungry for dinner. And the conversations are the most important thing, an openness to talk about everything you can't talk about in a public space. Last dinner we discussed the pros and cons of the so-called "raffset", sexy sets of lingerie.
How do you like to set your table?
With all of the best the house has to offer. I like the classics. Material is important, it should feel good. Ironed napkins of course. And then I have tablets, which I got from Operakällaren. I was there on my birthday and ate lunch and asked if they had any that I could buy. They had just made new ones, so I got some of the old ones. Of course, I tried to run that trick several times, but it didn't work.
Is there anything that is not allowed in your home? A friend of mine has an uncomfortable sofa because he doesn't want to be a couch potato, while you don't even have a sofa.
I'm afraid I would be too, that is if I had a couch, I just can't seem to find one I like. But you are right in that I don't wear sweats around the house, but I will wear undergarments.
What is a typical Stockholm look to YOU?
One thing I can get annoyed about is that many people put on a costume rather than dress for the occasion. They dress up as something they want to appear as, not as an individual, but as someone who wants to fit in. Those who go to art school look like everyone else who goes to art school.
It's even worse in Malmö! Art dads in Malmö—that's the worst style I've seen. Everyone pushes prams and wears women's clothes, a little too big, they wear something that has a function, meant to look like far from any aesthetic decisions but it is such an obvious and specific style choice.
i don't wear sweats around
the house.
Malmö had its turn — what are your favourite places in Stockholm?
Cassi, it's a French Resturant that opened in 1972. I have a poster in the kitchen, that my dad did when they had been around for 30 years. That's now almost 40 years ago. You don't really go there for the food, it's more about the atmosphere and the interior that's been intact since the 70s. It's sort of always been there. The same goes for Löwenbrau, I celebrate all my birthdays there—I always go there with my family. Babette is nice, I go for the chocolate cake. Van der Nootska is a super good lunch place on Södermalm. It's old, but I like that it's not a museum.
I like to walk around Gärdet or in Bromma. The villas are nice and it's easy to be seduced by the houses and what people are doing. Ursula and I once had an idea that we should start a fascist information agency, which would put notes in people's mailboxes when they had done something reprehensible to the houses. With the renovation frenzy, we get horrified when something that is of good quality is replaced with something of lesser quality. Most of the houses on this street have replaced the windows so that they're maintenance-free, which means they have replaced wooden and glass windows with plastic.
i like honest colours.
You have a lot of bold colour in your home.
I think that since I work in white environments I've chosen to have colour at home. The colour in the kitchen is a citron yellow from Farrow & Ball. I like honest colours, like primary colours.
There's a tactility and humour in your objects. How do you choose what gets to come home with you?
I care about things and have a hard time having things I don't care about. Why would anyone want to choose to surround themselves by ugly things? I can be amazed that people don't have the same disposition, and that they don't care. For me function and aesthetics are strongly connected. Quality is also important, I'm so provoked by things that don't last. I like my Tyrol coffee maker very much because I use it daily. I've had it for five or six years and every time I use it I'm happy.
What's the best thing someone has said about your home?
That it looks like Switzerland. ✺