ursula.
55. scorpio. rhubarb farmer.
When you enter the apartment it sort of feels like you've dressed it like a character.
Yeah, I suppose the kitchen could be a set design in a Marie Louise Ekman play, with the same use of colours. And in my dining room I've set the stage and built a shelf that hosts all my dolls and other characters, like an audience. But I am growing tired of my doll collection.
i like things that might seem
a little scary and odd to others.
Where do you think the fascination with dolls came from?
I like things that might seem a little scary and odd to others, I find my dolls funny and they give me energy. Most of them have names. Like Ultra for example, she has green and white clothes like Hammarby [Football Club], and their worst fans are called Ultras—she's probably a little evil. My friend Oscar built a small house for her where she has her poppy capsules, and an upside down cross. Then there's one named Jonas, I bought him in New York, in Brooklyn. The rooster's name is Lily, she was at a Swedish crayfish party and I fell completely in love with her, so she had to come home with me.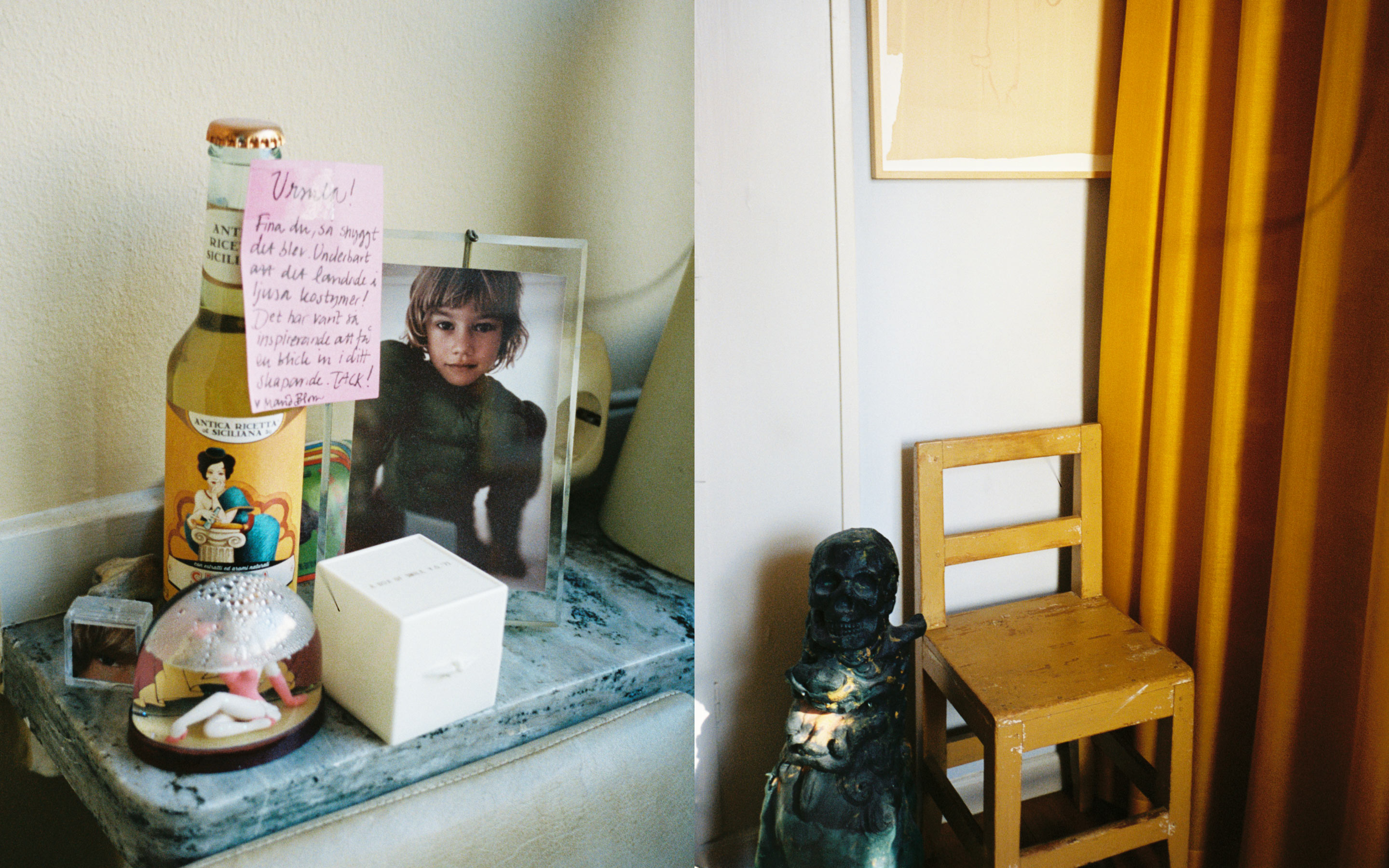 What does it take for things to be allowed to come home with you?
That we have a meeting, or there is an energy or an attraction. For example, people think I'm crazy because I have so many stones. Like the big stone I have in the kitchen that I found on Torö, in the woods. It sort of looks like a chestnut and I used to carry a few around in my pockets. Once when I was walking around the cemetery, a chestnut fell right on my head and I thought it was a sign. Plus I also just like the shape of chestnuts.
There are also many bears in your home, what is the reference?
Ursula means bear, so I'm probably the bear woman with her bear flock.
i've always wanted to live in castles
with paintings on the walls.
The mural in your bedroom is another Mise-en-scène! Who made it and what was the inspiration behind it?
I've always wanted to live in castles with paintings on the walls. When I moved in, I researched wallpapers and came up with the idea of painting directly on the wall like old murals in castles and mansions. I looked up someone who does theater décor, but then I was recommended the artist Olga Pedan, who tends to be in Stockholm in the summers and otherwise lives in London.
The idea was that there would be animals and nature, and since it's a bedroom it had to be something serene, that could feel embracing and soothing. I referenced Hilma af Klint's colour universe and all that is anthroposophical. After that she just did her thing and found flowers and animals from old cave paintings, the monkey is a common cave drawing dating a thousand years back, so none of the elements are random, but the colours were all her choosing.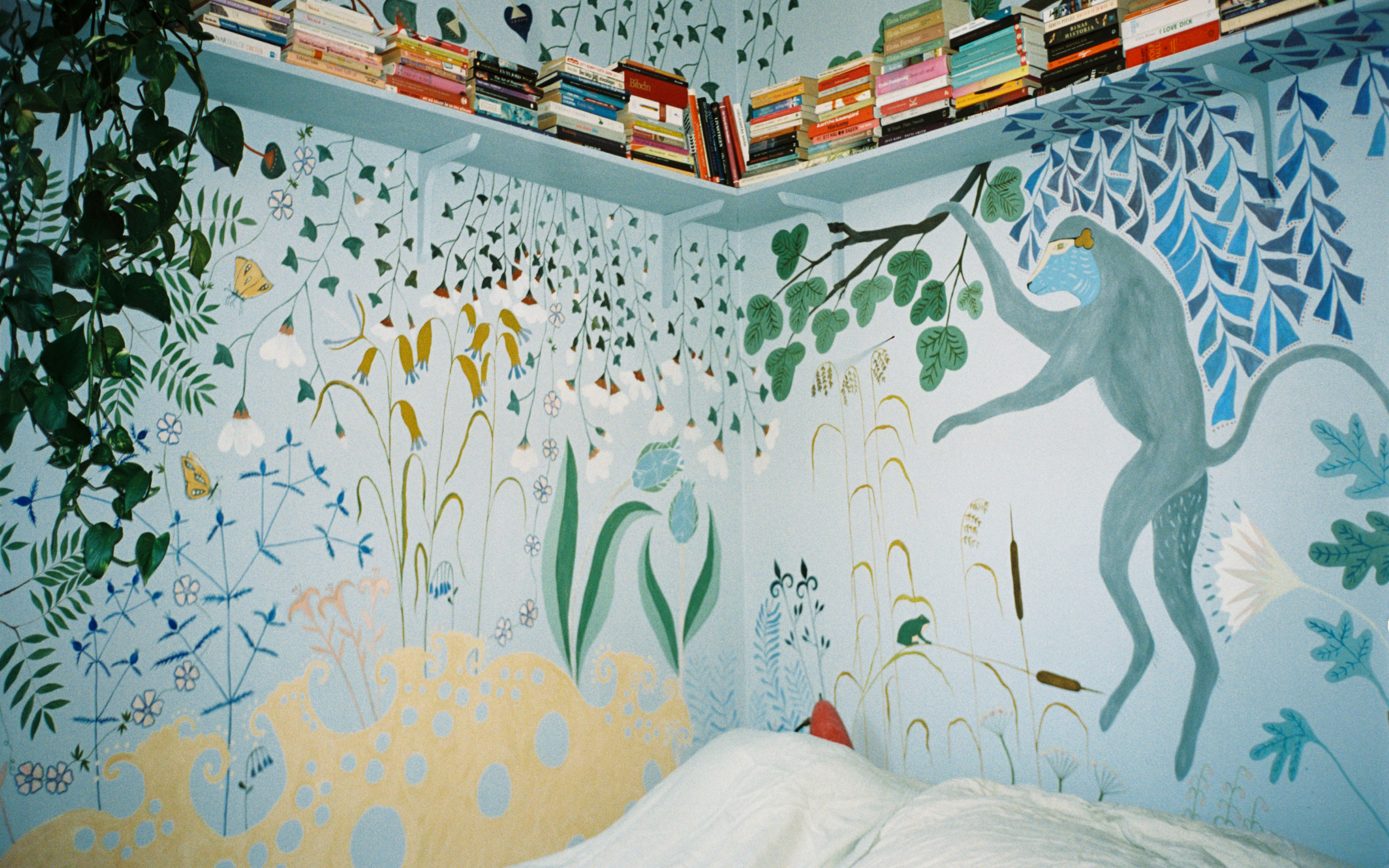 Must be wonderful to have such creative trust in someone!
I like to be surprised but at the same time I also like to be in control.
Speaking of, what gets you inspired?
Definitely playfulness, although I am a pretty serious person I am also very playful. That juxtaposition is me in a nutshell, like the feeling you get when you are in a nice store and you just want to let out a fart, or that time I was in the Gucci store in Florence and simply had to pull up my skirt and moon my friend. In terms of work, often there is something with the lighting. Like with Julia Hetta's pictures, which resemble still lifes and feel almost spiritual. Or someone like Casper Sejersen, he has beautiful lighting and something quirky about his pictures.
my mother was a seeker, who went from being a psychologist to a marxist-communist.
You mention spirituality. Has growing up with a spiritual mother, who was both interested in Anthroposophy and a devoted Catholic, made you feel spiritual?
Absolutely, but not like her. My mother was a seeker, who went from being an atheist, to a Marxist-Communist, to finding God and becoming a devoted Catholic who wanted to become a nun and join a monastery, that is when I said stop. Late in life she also ran a dog kennel. She was drawn to the extreme, to the dogma of serving God and others, giving up responsibility and having to follow clear laws and rules.
Finding your flow is important for the whole creative process. How did you start out in the creative industry?
As a stylist, it was a bit like sliding on a banana peel, I actually didn't know what a stylist was. I had met a guy I was very much in love with and didn't want to work as a model because I would have to continue traveling. Then one of my oldest friends suggested that I apply as an assistant at ELLE. I have always been into clothes, in the same way that I create a world here at home, I do it with clothes.
Would you say you dress for yourself or for others?
All for myself. But then again, in certain situations you have to adapt, or dress for roles. Other times you may need to build on some protection, a shell, or layer in order to create heat depending on what you need. It's so different.
What is the character you create for yourself?
I've always liked old men. And I really like menswear. It's strange, but I feel tender and warm at heart when I see an old man in sandals and trousers, with a belt at the waist, where everything is a little too big. But then I also like the idea of an Italian woman, the well-dressed lady, the Dolce & Gabbana woman, with a nice handbag to slap someone with. She's a little sexy, I like that.
Working as a model, what is it like to bring your stylist experience in front of the camera?
It's cool! I can probably see other people's visions. When I work with other stylists, I'm just someone else's tool. I would like to do more of that, as a role you step into, dare to throw yourself into it! I have worked with photographers where there is an innate energy that comes from understanding one another. It is an intuitive feeling that you have their confidence, which allows you to explore and dare to make mistakes.
Your work for Balenciaga turned you into a wax figure! What was it like to see the doll, did you recognize yourself? J-lo famously complained that her butt was too big, did you have any complaints?
She was exactly the same, it was scary! The only thing I noticed was that I thought she had bigger hands than I have. But otherwise everything was the same, even the tattoos were there.
maiden is easier to
pronounce than wångander.
What does the tattoo on your hand stand for?
It was for my son Aaron's dad; Michel Maiden.
Was the name pun Aaron Maiden on purpose?
No, it actually wasn't. We got Aaron from Elvis Presley, whose middle name was Aaron. Maiden is easier to pronounce than Wångander, but none of us had thought about how the name sounded. His dad is also an old hard rocker drummer. My dad's grandfather was also named Aron.
potatoes, lettuce, onions, beats, haricots verts and rhubarb.
With this many passions and talents, what do you do to relax?
I have my little craft corner in the living room, I have just started with woodcarving and think it's fun to make ladles. You are forced to follow the tree and hit right with the imperfections in the wood.
I also grow veggies in my allotment box across the park. I have potatoes, lettuce, onions, beets, haricots verts and rhubarb. I snatched away all the mint to grow things I could eat. And then I gave the mint to the ice cream kiosk so that they can make their wonderful sorbet.
Right! Which one of their flavours do you recommend?
They are very famous for their pistachio and nocciola. ✺